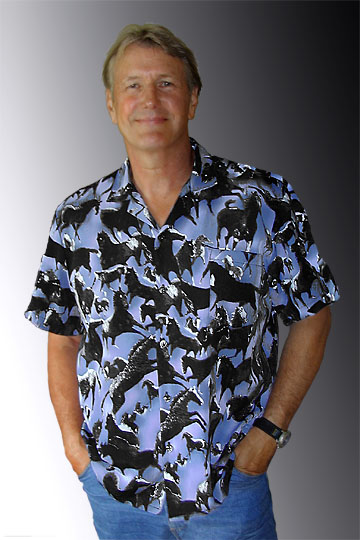 This is our 1995 original print with Mustangs running through snow. I designed this based on pictures from my childhood ranching days. It has double expansion pleats on the back for comfort.
As of 7/25/18, WE ARE NOW OUT OF THE M, L, XL-Sizes. We are no longer printing this fabric and are just letting these 2 remaining sizes sell out. We only HAVE SIZE S and 2-3XL
Note: Our Sizes Run "Generous"(About ONE whole Size above Shirt's size tag) If you take an "L" in your T-shirts, you might be a "M" in our shirts.
Find Your Correct Size with our ---SIZE CHART
Note: Despite my hands in my pockets, this shirt is a STRAIGHT CUT on the bottom.
FABRIC CLOSEUP-------
When ordering, this item is called:
HORSE SHIRT
Price: $75 + tax + shipping